Cash for Junk Cars St Petersburg Florida Service Areas
Pinellas County, FL Junk Car Buyer
Cash for Junk Cars St Petersburg FL has multiple locations but our location in St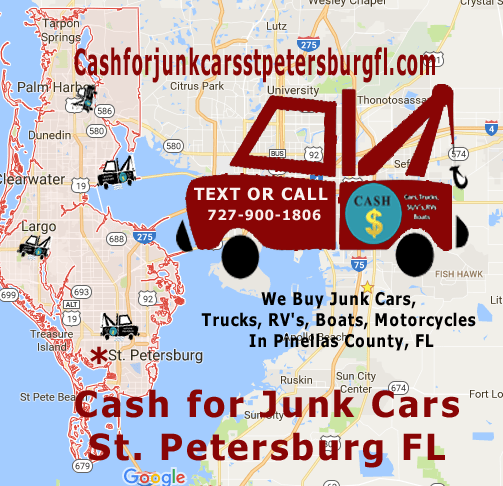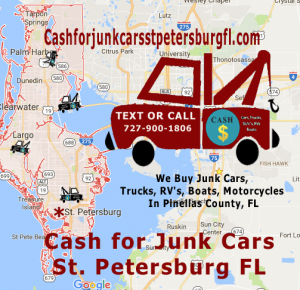 Petersburg services people who need cash for junk cars in Pinellas County, FL.
We pay you cash for old, unwanted cars, trucks, SUV's, boats and RV's and make it easy to junk your car in Pinellas County including in St Petersburg Florida. If you want to know if we're in your service area, the best thing to do is to text us. We'll let you know if we will pay you cash for your vehicle.
From Tarpon to Saint Petersburg Florida, when you need a Pinellas County Florida auto salvage company to help you scrap a car, truck, SUV, Van, RV or boat, Cash for Junk Cars St Petersburg FL makes the process simple. We provide free towing when you accept our cash offers too! So, if you have searched Junk My Car in Pinellas County, Florida (Great, You've Found Cash for Junk Cars St Petersburg FL!)
Pinellas County Florida Junk Car Buyer Paying Cash for Cars, Trucks, Boats, RV's in St Petersburg FL
Cash for Junk Cars St Petersburg FL will pay cash for vehicles all over Florida. We pay cash for boats in Pinellas County and have become a go to source when you need to scrap a car in Clearwater, junk a boat in Sand Key, junk your truck  Dunedin, or get cash for old RV's in St Pete, FL! No matter where you are in Tampa Bay, Cash for Junk Cars St Petersburg FL is ready to pay you cash for your old vehicle! Remember, when you search junk my car St Petersburg FL and we make an offer to buy your old vehicle, we'll tow it for free when you accept.
Paying Cash for Junk Cars in your Pinellas County Florida Neighborhood
Belleair Beach
Belleair Bluffs
Indian Rocks Beach
Pinellas Park
Madeira Beach
Sand Key
Redington Shores
Redington Beach
Seminole

All areas of St Petersburg FL
Bartlett Park
Bonita Bayou
Broadwater
Crescent Lake
Edgemoor
Gulfport
Harbordale
Historic Kenwood
Historic Old Northeast/North Shore
Historic Roser Park
Holiday Park
Isla del Sol
La Puerta Del Sol
Lake Maggiore Shores
North Kenwood
Pasadena
Tierra Verde
Tyrone
St. Petersburg Beach