We Buy Wrecked Cars, Trucks & SUVs in St Petersburg & Pinellas County, FL
Cash for Junk Cars St Petersburg FL will pay cash for your wrecked cars, trucks and SUVs anywhere in Pinellas County, FL. People often ask why it might be beneficial to junk your wrecked vehicles if they have insurance. The simple answer is that we may pay be able to pay you more than your insurance company will if they have deemed your car totaled. Also, if you were involved in an accident and you did not carry collision insurance, you may have no other choice than to scrap your wrecked vehicle. If you are wondering if we can pay more than your insurance company will for your car, just call or text us to discuss your options.
We're here to help you get the best price for your vehicles in Tampa Bay, whether they have been wrecked or if they are simply unwanted!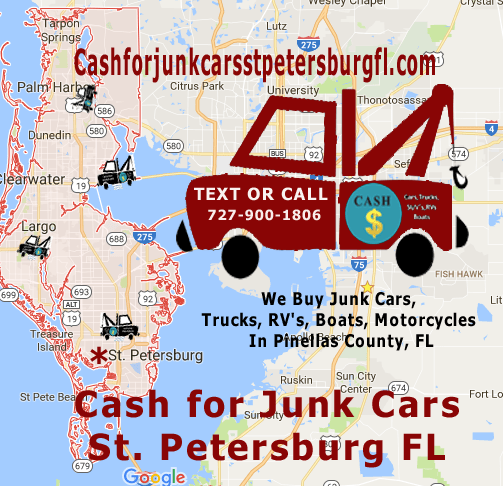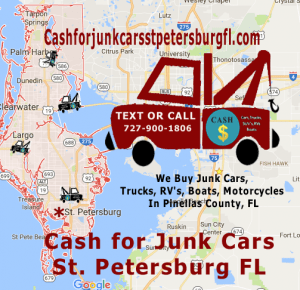 We Pay Cash for Cars with Collision & Mechanical Damage in Largo, Pinellas Park & St Petersburg
If you want to sell your wrecked, damaged car for cash in Pinellas County FL call or text us for information and an offer. If you are unsure whether you should take the insurance payment for your loss, or if should sell your wrecked car to us, we can help you make that decision with just one call! Every situation is different and we want to help you make the most informed choice.
How to Junk a Wrecked Car in Tampa Bay?
The first step in the whole process of getting the most cash for your wrecked vehicle in St Petersburg FL is to figure out if it is considered totaled or not. Your insurance company could decide that your damaged car is a total loss and when this happens the adjuster will provide you with the reimbursement amount, less any deductibles.
No Collision Insurance? Sell Your Wrecked Vehicles to Cash for Junk Cars St Petersburg FL
If your car has been involved in an accident and it is not possible to repair the car safely and you are without collision insurance you may be better off selling your car for cash to a Pinellas County Florida junk car buyer. If the cost of your repairs will end up more than the value of your car, your best bet may be to get a fair price for your damaged vehicle and move on.
Free Vehicle Removal Services in Pinellas County
We offer free towing when you accept our offer for your wrecked vehicles.
Learn more : Vehicle removal services in Tampa Bay.